BACKGROUND
We began our journey on the timber frame road in 2018 with the construction of a backyard Douglas Fir Pavilion. Given the country setting of the site, a rustic, solid roof structure was the most appropriate to build.  Initially, the Architect designed the structure to be a post-and-beam type of construction. The finished dimensions of 20 ft. long by 14 ft. wide were excellent, providing plenty of room for dining, entertaining, or just relaxing on a warm summer day.
After studying the drawings at length, there was something missing from the building that I could not exactly put my finger on. Within a short period of time, I found the missing intangible component…. character. The design proportions and scale were well done by the Architect, but the building would only serve as a functional structure in its current state. To be a truly successful project, the building needed to be substantial, and connect with the people using the pavilion.
INSPIRATION[1]
Our reverence for architecture and art stems from an innate human need to see talent expressed. When this is done in usable and functional forms, such as buildings, we become connected with the structures in a more intimate way. In today's age, when technology is expanding so rapidly, and planned obsolescence is commonplace, we yearn for things in life that have substance and permanence. Timber framing – by its nature, requiring the exact touch and feel of a master craftsman, its use of nearly raw materials, and its substantiality – provides this sense of permanence. There is nothing to hide or mask in a joined timber frame. The work of the craftsman who handled and fitted the joints remains visible throughout the life of the frame, inviting all who will inhabit or enter its space for many generations to come, an opportunity to sense the craftsman who worked the timbers.
"… when we build, let us think that we build for ever. Let it not be for present delight, nor for present use alone; let it be such work as our descendants will thank us for, and let us think, as we lay stone on stone, that a time is to come when those stones will be held sacred because our hands have touched them, and that men will say as they look upon the labor and wrought substance of them, "See! this our fathers did for us." For, indeed, the greatest glory of a building is not in its stones, or in its gold. Its glory is in its Age."
– John Ruskin
THE CONSTRUCTION PROCESS
Ridge Beams
The primary and secondary ridge beam assemblies for the pavilion are ready to install. All joinery is precisely cut and pre-fitted together in the shop to ensure accurate, efficient installation. All wood is Douglas Fir, with beams of 8×10 and king posts of 8×8, actual dimensions.
Raising Day
The ridge beams are lifted by crane and fitted into place on the gable beams with mortise and tenon joints. The diligent measuring and planning pays off, as the frame went together without delay!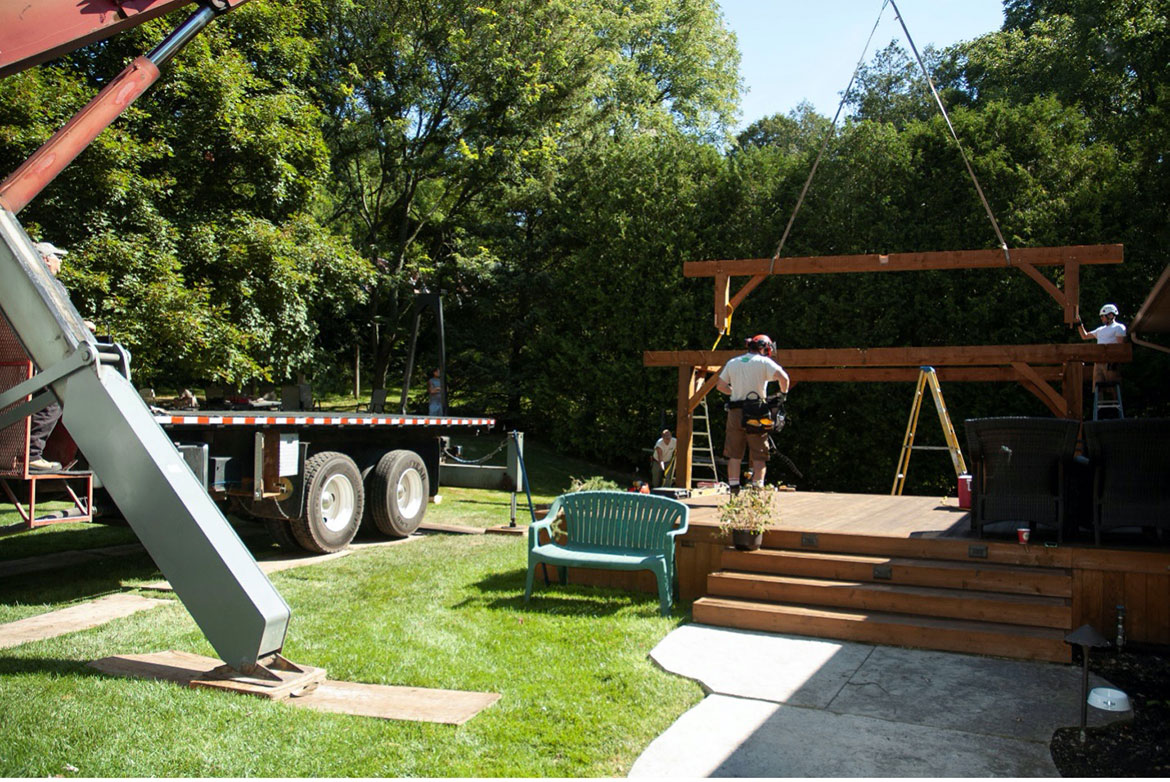 The Finished Frame
A close up of the west-facing gable showing the braces and roof struts detail. The roof sheathing is 2×6 T&G Douglas Fir. One (1) inch, Red Oak pegs hold the joinery in place. Braces are necessary to prevent racking, and have a slight embellishment cut on the underside.
The Roof Joinery
The best part…a timber frame roof. With all joinery fully visible, one develops an immediate sense of the pain-staking time and precision this joinery work requires. Compound mitre cuts on the west (left) side gable were particularly challenging. The generous headroom provided by the vaulted roof invites users of the space to relax and stay for an extended time to enjoy the view. Extensive structural lighting provisions were made, as well as heating. All associated wiring and related hardware are concealed so there is minimal visual distraction from the joinery.
Like all our previous Bespoke projects, this pavilion challenged and pushed our abilities. The end result is a sustainable structure that will provide generations of comfort to many families and friends. Much of this joinery was cut using traditional DISSTON hand saws that are in excess of 100 years old. The hand saws were recently restored and sharpened to cut with amazing accuracy and efficiency. These tools were originally owned by my late Grandfather, Rexford James Colborne, and, subsequently, my late Father, Gerald Harvey Colborne. Their guidance and wisdom enabled the completion of this frame, for which I am extremely indebted. The saws have all been resharpened and honed to perfection, ready for the next frame, which is a garden swing. Details to come!
———————
[1] (Chappell, 211)