Overview
We have installed and maintained the exterior lighting and irrigation systems at this Burlington property since 2003. The exquisitely appointed, two-storey home backs onto a mature woodland ravine with a creek. This property has a rare combination of mature trees that provide a wonderful backdrop to the inground Gunite pool and patio entertainment areas.
The Design:
The entire lighting system was updated in 2018, as the trees had grown significantly over the years since the original installation in 2003. Landscapes are constantly changing and evolving over time, and the illumination of these areas needs to be engineered and designed for this reality. In addition to providing breathtaking views of nature from the patio and inside the home, the new lighting needed to provide more security to guard against the growing threat of coyotes lurking at the rear fence. Evening entertaining and navigation during the warmer months is made easy, as the downlighting from the various large trees provides subtle illumination of the ground plane. The careful, precise location of the fixtures minimizes light source glare at night and made invisible to persons using the space during daytime hours.
The spectacular Red Oak tree (below) is the prize specimen and focal point of the design. The trunk approaches some six (6) feet in diameter, supporting a canopy that stretches vertically over 80 feet.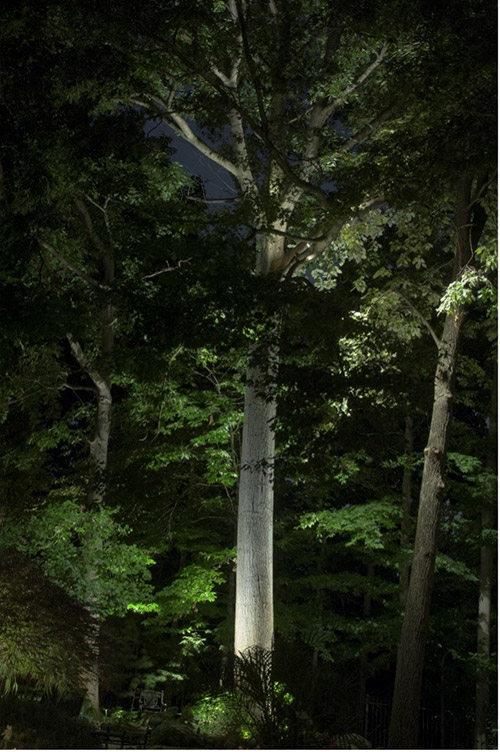 Illumination of the upper canopy furnishes a wonderful reflection view in the pool (see below). Diligent aiming of the fixtures ensures that the light sources are not directed at the pool surface. To do so would cause discomfort glare for those using the area.
Subtle downlighting from the large trees creates artful branch silhouettes on the ground plane (see below). Not only is this beautiful to view, but also serves for functional nighttime navigation through space.
Operating System:
This lighting system utilizes low voltage 12VDC, dimmable transformers and MR16 LED lamps. Yearly and long-term lumen maintenance costs are minimized with this configuration. Tree canopy fixtures and wire clips require periodic adjustments every three (3) years, on average, to accommodate normal tree growth. Independent zone switching and dimming is provided, utilizing INSTEON™ Home Automation. Lights can be remotely switched and dimmed using a Smartphone or Tablet, equipped with the INSTEON™ App.
A very special thank you to our Client for allowing us the creative flexibility in the development and installation of this comprehensive, detailed lighting composition. It is a sincere privilege for us to work at this location.